(working title)
2022 - ongoing
Different installaments of the work were exhibited or performed in:
◍ Castel Coucou, Institut Francais, Sept 2022
◍ Middle East Institute , "MEI Climate Exhibition", Dec 2022
The research looks into different economic and political forces that shaped the food system in Lebanon.
Through a dinner performance, I presented a menu set based on the Great Famine of 1916 that took place in Lebanon and its connection to the monoculture of mulberry.

To compete against China with the production of silk and to cater for European countries, the Ottoman Empire dedicated Mount Lebanon for the production of silk. The area faced a rise of mulberry monoculture which was due to the specific diet of silkworm that required solely on mulberry leaves to produce silk. Towards the end of the empire it was estimated that 45% of agricultural land in this area was dedicated to mulberry. Protected under the Ottoman network, Lebanon became interdependent for its food supply (grains and wheat).

As a result of the environmental crisis; bad season of crops and the locust invasion, the Mount Lebanon area experienced the Great Famine from 1916 to 1918. During that time, the Ottoman Empire created an alliance with Germany and decided to prioritize its food storage for soldiers fighting the imperial war. From the sea, Britain and France forced a maritime blockage preventing any aid entering the area. During that time Lebanon lost half of its population. (The weakened state facilitated the colonial project in a couple of years to come.)

The dinner performance allowed for this story to take place around a menu set based on mulberry mixed with leftover foods. The menu creates a parallel between the current food crisis in Lebanon with the one during the famine. As the Lebanese economy falls in black market, having access to any basic need becomes a form of class luxury.

The dinner was accompanied by music created and popularized during 1916 in Lebanon.
a

brief introduction
to tesliq
2020-2022
Artist book
(written in English and translated to Arabic)
- AFAC Artist support Grantee
- Mophradat Grantee
- Excerpt from the book was pubslished in Samandal comic #17
Tesliq (تسليق); part of rural lebanese dialect, refers to the act of collecting chard (seleq-سلق) which became associated with picking edible plants. Gathering shrubs offers a communal instinct, a sense of awareness that these plants belong to the community that looks after it.
The book weaves a collection of reflections around foraging as a communal tool to look for primary resources and to reclaim expropriated lands in Beirut.
- size 14.5x18cm
- 144 pages
- English and Arabic (both in same book)
- Every copy includes a poster; size 28x35cm
to order the book please sign up here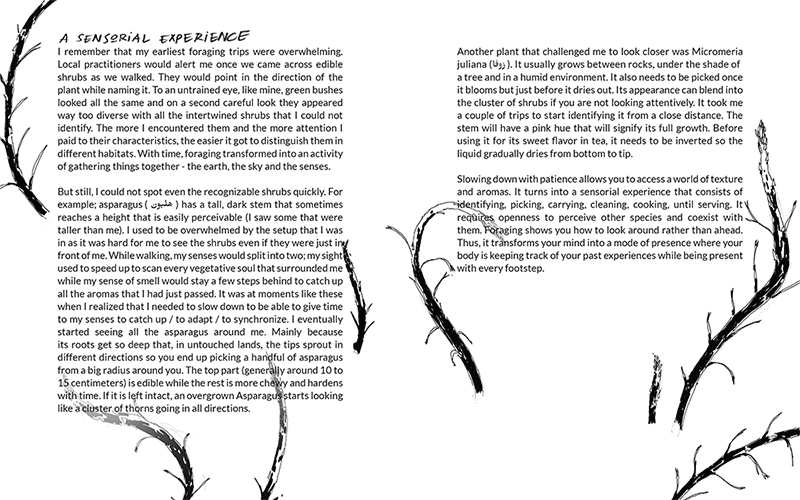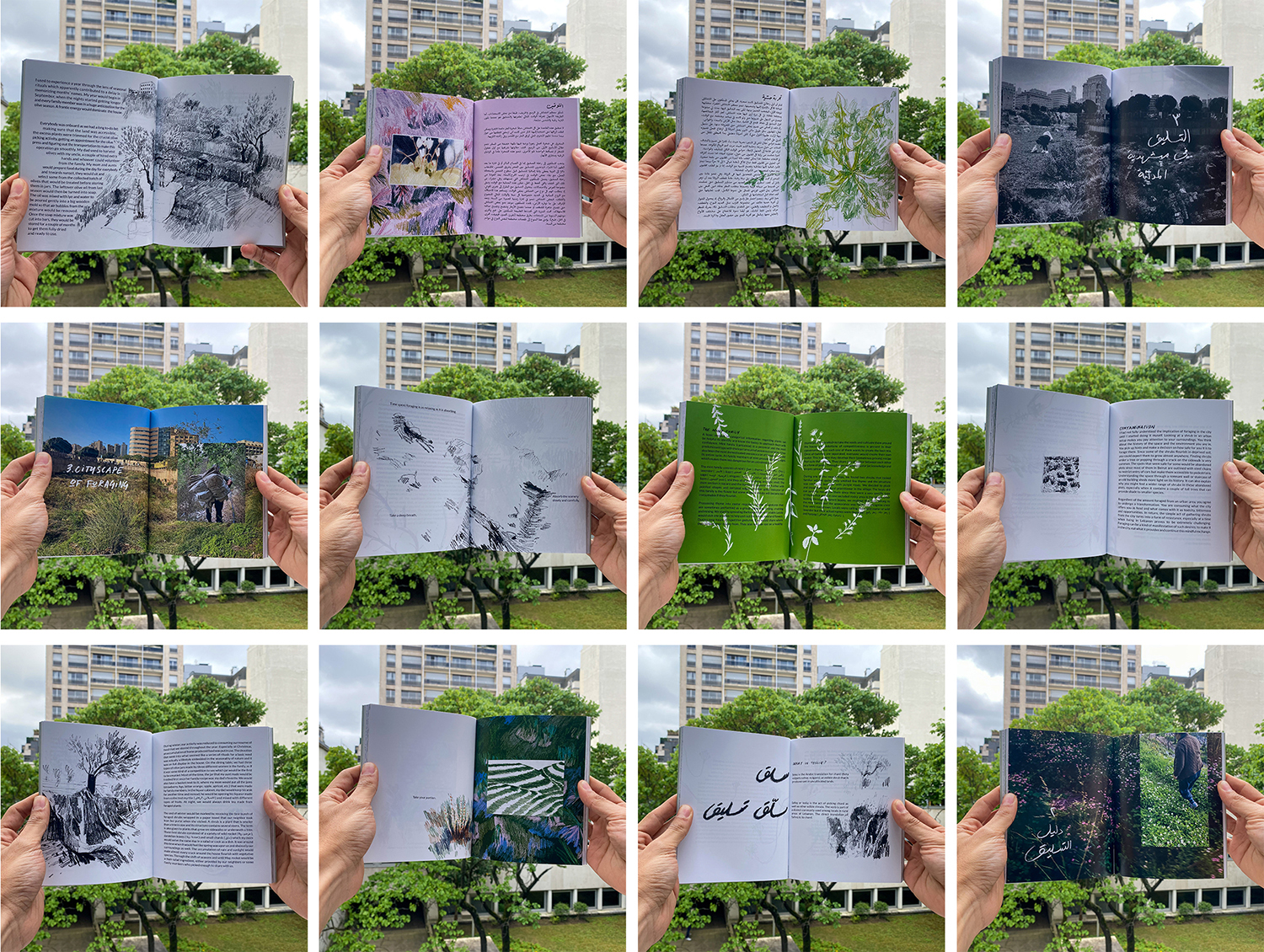 You Can't Discourse Without Disco
Final week of WHW Akademija, October 2022
Galerija Nova, Teslina 7

Darko Aleksovski, Željko Beljan, diana cantarey, Adrijana Gvozdenović, Maksym Khodak, Nadežda Kirćanski, Stela Mikulin, Ruoru Mou, Kristina Pashkova, Christian Sleiman, Bojan Stojčić, Huda Takriti

Beginning in March 2022, the 4th edition of WHW Akademija has evolved as a process of collaborative and reciprocal learning, facilitated by a group of invited professors but also by the twelve selected participants, whose individual commitments have unfolded over time into an investigation of collectivity and the common. The final week in Galerija Nova is both a presentation and continuation of this process, an exhibitionary habitat for themes, questions, joys and anxieties that have accumulated through a host of online and onsite workshops, lectures, seminars, meetings, chat groups, collectively edited documents, excel sheets and mind maps. Conceived and organized by participants themselves, with the mentoring support of this year's resident professor independent scholar and writer Ivana Bago, this final event is structured as a "base for artistic research," or simply, a bar, which will serve as an anchor point for a series of public events happening daily from 5 to 8 pm and constituting an exhibition-in-progress.



(ongoing)
Participatory performance for Temporary Art Platform (TAP)
"art, ecology and the commons"
Installation at Galerie Tanit
"Togetherness" collective exhibition,
The work was developed through Art Evolution program by Goethe-Institut supported by German Federal Foreign Office

Different installaments of the work were exhibited or performed in:
◍ Galerie Tanit, "Togetherness" collective exhibition, June-Aug 2021
◍ Temporary Art Platform (TAP), "art, ecology and the commons", Aug-Sept 2021
◍ Künstlerhaus Mousonturm, Frankfurt, Aug 2021
◍ Goethe-Institut Schwäbisch Hall, "Encounters", Nov 2021
Inspired by the local communities in rural areas in Lebanon,"a seasonal ritual" is an invitation to forage, cook and serve each other. The work weaves a collection of recipes and experiments around the culture of utilizing shrubs and serving food.
At the heart of foraging is a seasonal understanding of the natural world. Humans would follow what the land has to offer; a coevolution that takes place through human activities. The gatherers would identify where the shrubs would grow and around what time of the season. Foraging represents a form of a multi-species understanding where the locals would take what they need and leave some for the shrub to regenerate next year.
Although It's an individual activity, it is performed collectively. We've been carrying those rituals from year to year and from one body to another. the food we serve, the body we nourish and the table we're gathered around becomes a vessel of generational knowledge. "a seasonal ritual" will nurture a conversation around our agencies in a city where it left us deprived from all primary resources through the poetic dimensions of cooking and eating together.
Culinary presentation during Renouer avec le vivant organized by L'ATELLINE
Final presentation during ArtEvolution Program organized by Goethe-Institut
Performance during "Encounters" organized organized by Goethe-Institut Schwäbisch Hall
2020
Video and photo series

The work was exhibited as part of "How will it end?"
co-produced with the Pompidou Centre at Fondation Boghossian – Villa Empain.
2 Dec 21 - 6 Feb 22

The work explores the politics of plants in highly expropriated and fabricated spaces in Beirut; looking into the rules and regulations behind this highly curated approach to deal with plants, especially treesin these spaces. The location of the trees offers a certain restriction thatgoes into sculpting its shape; in front of a storefront, next to a parking spot, near a trash bin and right next to a roundabout...

Fondation Boghossian – Villa Empain © Thibault De Schepper